written by: Essiance
Let's start with the our father. On 6th December of 2008, Sven, Fuce, Master and Essiance founded the Nexuiz Fun Clan. All of them were good friends, normal mode players, and were members of the great [unconnected]-Clan of Nexuiz, one of the oldest and best clan in Nexuiz. After some internal problems, Essiance and Master thought about founding an own clan. We just wanted to have fun, that's why we choosed the name "Nexuiz Fun Clan". Fuce and Sven joined the clan as CoAdmins. Save that situation, please. After hard differents between Master and Essiance, because they had different views and opinion about their clan, Essiance left. He stayed active in that clan, the board, and he had a good frienship to the other members. Nearly 6 months later, Essiance came back and joined NFC as member.
We got more and more members, and NFC was a name ingame. Master, the admin, did a exchange and was a half year in Australia. Also Sven and Fuce were inactive, and Essiance became something like a "secret admin". Predator joined, Xador joined, an AxG and my partner admin also were members in NFC.
Faith wrote an application. Faith is girl, insulting and spamming the forum the whole time. Two groups existed in NFC and a also a big problem. FAith is well-known in Nexuiz, but just for her bad english and german. Essiance was just a member, and the whole clan was inactive. Faith used harsh words the whole time against Essiance, but he never answered. He won't take himself on that level. Faith, blub, Sven and Predator were one group. Essiance the other one. Essiance could be lucky, that Master came back and had the self opinion Essiance had. First of all blub left, then Essiance tried to kickass Faith, and later, Predator left because of Faith's leaving message. They thought, NFC could be dead.
But later, we tried to revolution our clan. Without the active time of Xador we would never had survived. Essiance became active, and we invited more and more players. Predator joined NFC, after saying sorry to Essiance, and he brought his friend Peacemaker into that clan. We became a more and more well-known group. NFC, I don't want to exaggerate, had a better teamfeeling than all the other clans, and we're as skilled as DieTunichtguten were. I just want to remember that group: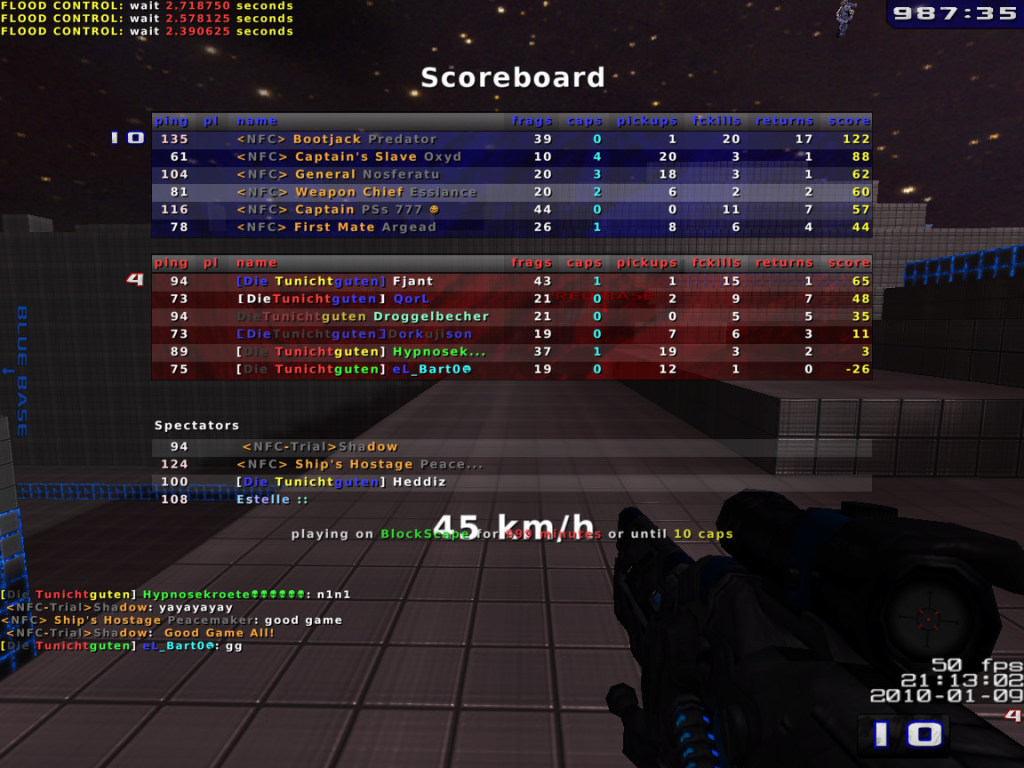 Then, with one moment on the others, our "family" got broken. Slup joined Legion of Caps, PSs777 and Oxyd joined DieTunichtguten, and everybody else in NFC knew, that this was the end. We tried to survive, but there were only Xador alias Fimbultyr, Kolum and me active.
I asked Kolum, what he would say, if we found our new clan, because there is no future for NFC anymore. He agreed, and if we won't do, he would leave NFC. I asked Fimbultyr, adn he also agreed. It was a hard move, but we wrote our leaving message. Running nearly 1,5 years with an NFC-tag and to leave then, that's truely hard. We knew, that our friends would come with us, we thought about Predator, ArgeadGER and Shadowstrike. ArgeadGER didn't but the other both wanted to be CoAdmins.
We build a forum, and AxG was founded. Maybe we will survive a long, long time. I hope so, Xador hopes so and Kolum hopes so.
We're the following clan of the Nexuiz Fun Clan / Nexuiz Fun Squad, founded by Sven, Fuce, Master and Essiance.
We're the rest of NFC.
We're a great Community, we're friends.
Thanks to Oxyd and to Slup. Also a great Thanks to Kathy, for the great ingame times we had together.
Thanks to the Nexuiz Fun Clan
Inactive Admin




Anzahl der Beiträge

: 553


Anmeldedatum

: 2010-05-24


Alter

: 24


Ort

: Brunswick, Germany





Similar topics
---
Permissions in this forum:
You
cannot
reply to topics in this forum